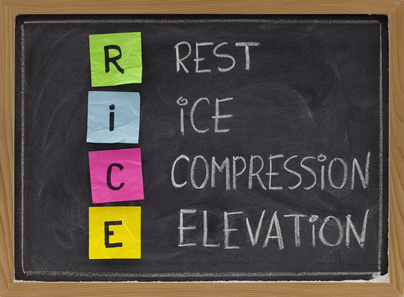 When you hear the words rice and meat, we won't blame you for thinking about food!
In the physical therapy world, the RICE method (rest, ice, compression, and elevation) has long been the recommended treatment for sports injuries. It is a recognized way to handle injuries, but recent reports suggest that ice and complete rest might delay recovery. Complete rest causes the muscles surrounding the injury to tighten, causing the potential for further injury once the activity is resumed. Though ice is useful in the short window immediately after the injury, it can impede the healing process over time.
If RICE is out, what method should you use instead? It's called MEAT.
MEAT stands for "movement, exercise, analgesics, and treatment".
The theory is simple. To recover as quickly as possible from an injury, continue to move the affected joint as much as possible throughout the recovery period. Use common sense and remain within the limits of pain. Your body will tell you what it can, and cannot handle. The inflammation following an injury is part of the body's natural healing process. Increased blood flow to the area that helps repair the damaged tissue. The continued application of ice to an injury after the first few hours could in fact, a hindrance to this natural healing process.