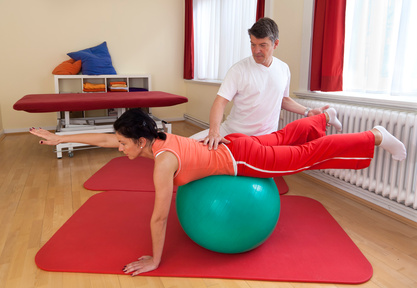 Your physical therapist will help you establish the foundation for a healthy lifestyle. Some foundational principles include:
Stretching
Find a way to include stretching into your daily routine. Associating it with something you normally do every day, like brushing your teeth or letting the dog out, can make it easier to remember. You can set vibration alerts on your phone to remind you to take a break from work. Simply stand up, step away from the computer and stretch your neck and back. It doesn't have to be anything elaborate. Keeping healthy muscles and joints mobile throughout the day helps improve health and vitality.
Hydration
A well-hydrated body is a necessary foundation for physical health. Make it easy to keep drinking throughout the day by keeping a water bottle at your desk. Remember to sip water at regular intervals. Don't wait till you are thirsty, because the thirst reflex is a delayed indication of hydration. If you wait till you are thirsty, you are already dehydrated.
Core Stabilization
Balance in the human body is almost as important as balance in life. Challenging yourself a little every day can strengthen your core muscles (abdominal region, trunk and lower back) and improve proprioception. Try standing or sitting (make sure you are within arms reach of a chair so you can hold on to something if needed), close your eyes and hold your arms out at shoulder height. Now try picking one leg up, slowly, beginning by lifting your heel and rolling forward through your toe. Try to hold your leg up for a few seconds. When you put your foot back down, do it slowly, setting down your toe, then the ball of your foot, and finally your heel. Don't forget to do the other side so you're equally balanced on both sides. Try to increase the duration of the one-legged stance each day.