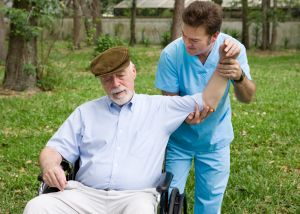 Home therapy can help you reduce pain, avoid injury and return to safe, independent living. AmeriCare can arrange for a therapist to visit you for comfortable, convenient rehab visits in your own home.
Home PT is commonly arranged to treat arthritis and joint pain, joint replacements, soft tissue injuries, chronic pain syndromes, gait and balance problems, stroke, head injuries and neurological diseases such as Parkinson's, MS or ALS. Doctors frequently order physical therapy to help patients recover from a fall and learn how to prevent future falls.
At the initial visit, the physical therapist will evaluate your condition and help you identify your goals. On subsequent visits, the therapist will work with you to improve your walking, balance, range of motion, posture or strength, with more mobility and less pain. You'll be taught what movements and habits to avoid, and how to perform exercises and stretches on your own between visits.