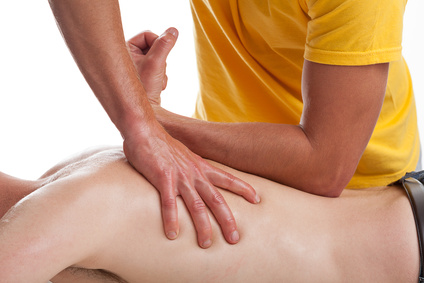 Physical therapy is a highly specialized skill that involves hands-on care from the therapist. This helps individuals maintain, enhance or regain their functional capabilities. The information gathered in the evaluation is used to construct a treatment program that may include:
Hands-on techniques to bring relief - Specialized motions and movements to increase joint movement help to re-educate the body on how to move correctly. This helps in recovery following injuries and surgical interventions.
Mechanisms to reduce pain – The application of electrical stimulation through a controlled stimulation unit can reduce pain in muscles, ligaments and tendons.
Water therapy – In some cases, individuals perform prescription exercise programs in a swimming pool. The buoyancy of water decreases stress on joints, increases range of motion, reduces pain and helps develop balance. Sessions in a whirlpool can use the action of water to control pain and inflammation, and improve circulation and range of movement.
Vibration Therapy – Sometimes called percussion therapy, the method is effective in the removal of phlegm and congestion for patients with chronic obstructive pulmonary diseases.
Ultrasound – Acoustic waves are used to accelerate healing in soft tissue injuries and strengthen bones.
Laser Therapy – Specific light wavelengths are used to stimulate healing at the cellular level.
Massage – Therapeutic massage techniques are customized to the patient's needs. Massage is used to counteract the effects of daily stress and maintain range of movement. The stimulation of the body's internal healing mechanisms helps recovery.
Clinical Pilates – A specialized form of exercise (different from conventional Pilates) helps build core and pelvic floor strength. It helps improve balance and function and can be performed with or without specialized equipment.
Traction – The method stretches specific joints in the body and alleviates pain and discomfort in the spinal region.
Walking Aids – Physical therapists help patients learn how to use mobility aids such as canes, crutches, walkers and wheelchairs to improve mobility and prevent injuries.