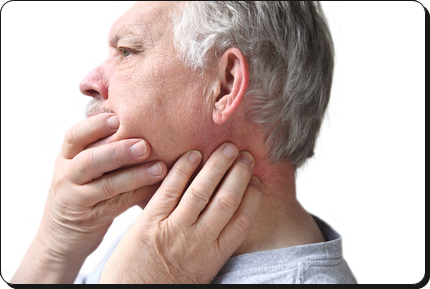 The temporomandibular joint (also known as TMJ) is located in front of the ear on either side of the head where the upper and lower jaws meet. It is used throughout the day during activities like talking, eating and chewing.
In most cases, TMJ dysfunction requires a visit to a dentist or orthodontist. Physical therapy is not normally considered the first choice for treatment. However, it is important to note that the muscles of the neck and jaw are closely connected to the muscles of the shoulders and neck. Weakness or dysfunction in the neck and shoulder muscles affects the muscles surrounding the jaw and this is one of the (several) causes of TMJ problems. These muscles are some of the most actively used in the body. As a result, untreated TMJ dysfunction has the potential to evolve from a mere nuisance to a rather debilitating condition.
In the early stages, an individual may experience difficulty talking, chewing, yawning, sneezing, and swallowing. Over a period of time, the symptoms can get worse. They may include headaches, ear pain, bite problems, clicking sounds, and locked jaw.