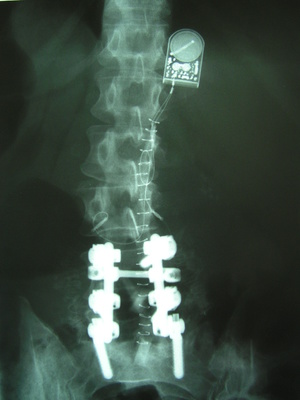 Spinal fusion is a type of surgery that permanently connects two or more vertebrae in the spine. It eliminates motion and immobilizes that part of the spine to correct a number of conditions for improved stability and to reduce pain. The services of a physical therapist following surgery helps with pain relief, teaches new ways to move, and aids in environmental accommodations to make everyday tasks easier.
The procedure is utilized to repair broken vertebrae, correct deformities, and treat a herniated disk or spondylolisthesis. The surgery may also be used to relieve spinal weakness and instability. In some instances, it's used to treat chronic lower back pain that's not associated with a specific disease or disorder.
Spinal fusion will change the way individuals move and places additional stress on the spine above and below the location of the surgery. Most people don't think about their ability to bend, move and twist, but patients will need to make adaptations and learn new ways of sitting, standing, walking and moving following fusion surgery.
The extent of the changes will depend on the vertebrae that were fused. Physical therapy is essential and will be an ongoing process. The procedure addresses current needs, but without appropriate therapy, further degeneration and pain may occur in the future. Physical therapy provides techniques and advanced technology to address the range of changing needs that result from spinal fusion.